Sturdy model
The BioUltra 570 is built to last and meticulously engineered to use the least possible energy to greatest possible effect ensuring maximum ROI. Efficient, insulated inner doors ensure safe operation even with the outer door left ajar. The two independently working inner doors ensure that items can be accessed with least possible effect on the items stored.
If placed in a potential explosive atmosphere, BioUltra complies with both internal and external ATEX Cat. 3 Zone 2 requirements including the cabinet exterior and its impact on immediate surroundings.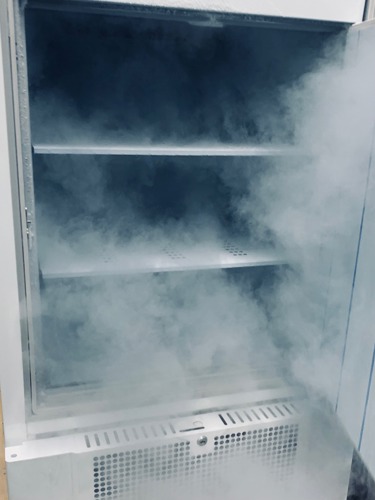 Fig 1: Open inner door
Safe surveillance
To give peace of mind for the users, BioUltra is delivered with Gram BioLine MPC Control Unit with voltage-free contact, E-sensor, acoustic temperature alarm (that can be programmed individually), alarm recording, hi/low temperature and offset function as well with an extra sensor for providing a temperature reference within the storage compartment. In addition, you will find 2 access ports for ease of access e.g. sensors for external temperature surveillance.
System Optimisation
Our experience shows us, that freezers (and refrigerators) are often placed in a small, confined spaces, creating an increased ambient temperature for the users operating the cabinets as well as putting a strain on all electrical equipment in the room. Besides a regular air-cooled condenser, the BioUltra is also available with a hybrid water/air-cooled condenser option. (*requires process water supply). The hybrid option combines the convenience of minimal heat/noise emission from water cooling with the original air-cooled system in the event of interruptions in the supply of process water. In addition, there is a great energy recovery potential, as the excess heat can be transported elsewhere and be used for a different purpose, water heating e.g.
Flexibility in layout
The BioUltra is, as standard, delivered with 5 stainless steel perforated shelves. However, the customisable layout allows users to adapt the cabinet to specific storage requirements. BioUltra comes with stainless steel interior for optimum hygienic properties as well as with detachable inner doors for easy cleaning and defrostning.