22. February 2022
Stabile temperatures for Olink in Sweden
For proteomics company, Olink in Uppsala - Sweden, stabile temperatures are key when storing their lab results. The expanding company use Gram BioLine refrigerators and freezers to keep components safe.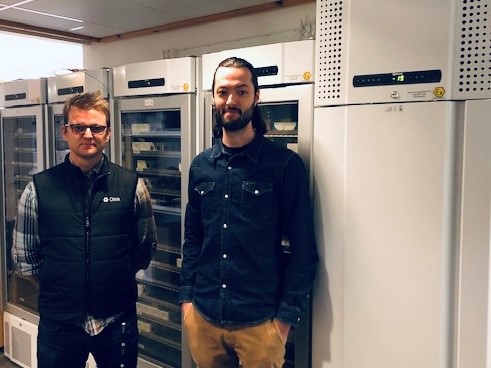 Olink creates tests that can see proteins in the blood using very small blood samples. One small drop of blood can give an enormous amount of information about a person and is used see different protein ratios in the blood.
"As we detect new proteins all the time, the need for storage of components are also expanding" says Adam Falck, laboratory technician at Olink's R&D Department.
The protein ratio can change over time when having e.g. cancer or Alzheimers – and thereby change the chemistry in the body. Olink continuously work to find new proteins in the blood and ways to detect them even better. All is used to understand the human biology, predict disease and treatment outcomes.
Reliability and stability
When the R&D department at Olink works to detect a new protein, it requires testing of components in the laboratory and to keep the samples safe, there is a great need for safe storage.
Most of Olink's components are stored in refrigerators, freezers and ultra-low freezers and Olink quickly saw an increased need for a good and reliable solution for storage.
Mathias Andersson from Olink's warehouse, responsible for incoming and internal goods handling, adds:
"Gram BioLine products are of a very high quality, reliable and working really good with +/- 1-1,5 degree, which is very safe. It means we can open the cabinets more frequently during a workday compared to others. That is why we contacted them".  
And Adam Falck continues, "Biological samples are very sensitive, and they are also very expensive. If we have breakdown, we are not only losing the samples, but we also lose thousands and thousands of kroner".
The daily collaboration
Olink and Gram BioLine have a very close and often daily collaboration both on the technical side, but also between the purchasing department at Olink and the sales representative from Gram BioLine
"Our collaboration with Gram Bioline is very good - especially their technical support if we have an issue. All the technicians I have been in contact with have always been very quick to answer. I feel like they always go out of their way to help you – even if they are in shortage of a specific item, they still try to help you the best they can. They have always been very good to work with, says Adam Falck from Olink's R&D department.
Birgit Nordh, ASM from Gram BioLine, also praises the collaboration with Olink. "We have a very good collaboration and talk on numerous occasions in any given week. The longstanding relationship facilitates an efficient dialogue, focusing on what is important to Olink and how we can be of assistance, says Birgit.
The Olink products from Gram BioLine
The R&D department at Olink has over the past couple of years expanded rapidly and and with that, the need for stable, precise and safe storage of items across the different temperature ranges. Models like the BioPlus, BioMidi and BioUltra models cater to the requirements for refrigerators, freezers and ultra-low freezers.
All of them are built after Olink's specifications. Besides having the Gram Bioline alarm, it is also connected to Olink's overall alarm system. All cabinets are supplied with documentation and a daily contact in Gram Bioline's service organization to help with any challenge Olink face in their facilities.